ZEIT ONLINE July 29th 2020
Racism: "The blacker a person, the more carefulness is neglected"
DE: Warum sehen Sie eigentlich keinen Rassismus?
William Tonou-Mbobda died in the UKE after being restrained. In this interview, Black Community activists explain why they think this is institutional racism.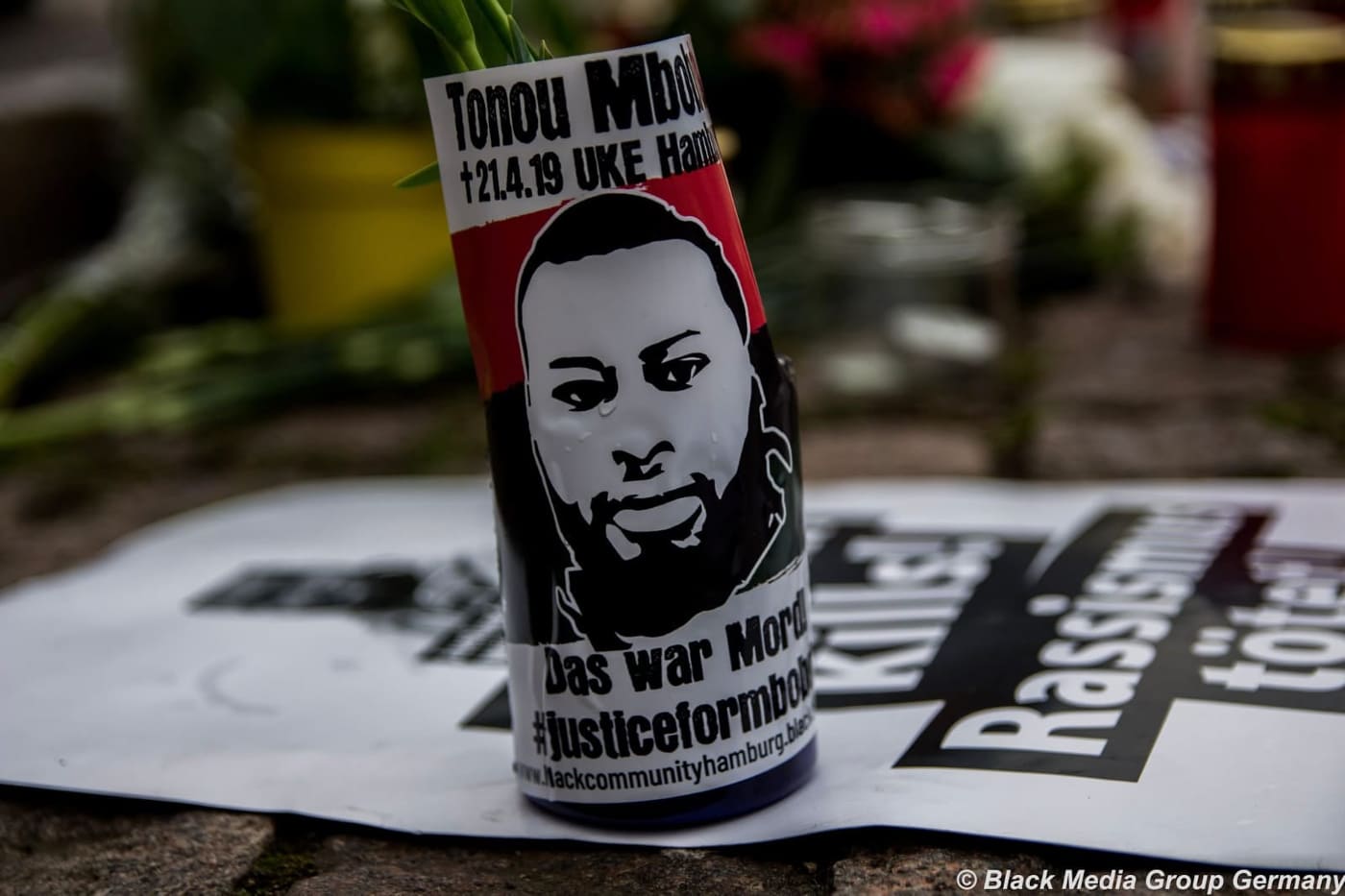 Interview: Félice Gritti
https://www.zeit.de/hamburg/2020-07/rassismus-psychiatrie-patient-sicherheit-hamburg/komplettansicht
More than a year ago the psychiatric patient William Tonou-Mbobda died after the security service of the UKE forcefully fixed him. The incident has not yet been legally clarified, the investigation is still ongoing. The Black Community Coalition for Justice and Self-Defense, a group of Black activists, considers the case an example of institutional racism. We spoke to Oloruntoyin Manly-Spain and Mwayemudza Ndindah about the accusations they are making – and what the case means to them personally. At their own request, the two will appear in the rest of this interview under their activist names "Sister Oloruntoyin" and "Brother Mwayemudza".
ZEIT ONLINE: For more than a year, you have been pushing for clarification of the death of William Tonou-Mbobda, who died at the UKE after security guards had detained him. You see racism in this case. Where, exactly?
Sister Oloruntoyin: It is important to differentiate: We mean institutional racism, not interpersonal. Institutional racism is not necessarily intentional, it has to do with bias and unconscious beliefs, but it creates structures that lead to black people being treated worse. Even in hospitals.
ZEIT ONLINE: Hospitals have not yet been at the centre of the debate on racism.
Sister Oloruntoyin: At the beginning of the 1990s, a young black man died in Broadmoor Hospital in England, after which the so-called "Blackwood Report" was produced. This described a culture within that hospital that was based on White European norms and expectations. According to the report, this resulted in a subtle, altogether covert form of institutional racism – which was nevertheless effective and played a major role in the treatment of the patient.
ZEIT ONLINE: How do you know that the same thing happened in the case of William Tonou-Mbobda?
Sister Oloruntoyin: First of all, there has been no official apology from the UKE to the family of William Tonou-Mbobda to date. That would have been the least we could have expected, but it's not the only point. According to the autopsy report, William Tonou-Mbobda would not have died if he had not had a heart defect. Had there been a thorough nmedicaeion on admission, the heart defect would have been discovered earlier. A heart defect is a risk factor – it should also play a role in the decision whether to order coercive measures or not. And if one orders and exercises coercion, then there are certain rules for this, such as the S3 guideline …
ZEIT ONLINE: … which recommends, among other things, that when lying on the ground. people should be restrained face up, which was obviously not the case with William Tonou-Mbobda …
Sister Oloruntoyin: … and the UKE has violated these rules in this case. We cannot and will not simply accept this.
Brother Mwayemudza Ndindah: There are more points to it. The confirmation to the request for coercive treatment was not conferred yet at the time. Self-endangerment or extraneous endangerment was neither given nor documented – we spoke to a doctor after the incident, William Tonou-Mbobda did not attack or hurt anyone according to this. The security personnel was not deployed in the presence of a doctor either. Then the public prosecutor's office commissioned the Institute of Forensic Medicine at the UKE with the autopsy, and the director of the institute, Professor Püschel, accepted the assignment – although there was a conflict of interest. Furthermore, according to our information, William Tonou-Mbobda's name was misspelled at the time of admission, despite his health insurance card. This later led to the fact that his sister was not allowed to provide legal guardianship for her brother.
ZEIT ONLINE: This may be a worrying accumulation of mistakes, but is it racism?
Brother Mwayemudza: These are systemic mechanisms of action that are not necessarily linked to a malicious intention of the individual. But that's the way racism works – and that's what we mean when we talk about institutionalized racism. These chains of error are only possible when it concerns a person of minor importance, and the blacker a person, the more likely it is to be so. The more likely it is that care and standards will be neglected.
ZEIT ONLINE: Nevertheless, many people would probably respond: All this could've happened to a White person.
Brother Mwayemudza: This argument only points out that there is something wrong with this coercive psychiatric system. And on the other hand, it still does not exclude the possibility that institutional racism have played a role in this particular case. There are various factors that lead to people being less careful, paying less attention, showing less empathy – institutional racism is not the only one, but it is one of these factors. The debate suffers from the fact that this kind of racism is not recognized, is denied.
Sister Oloruntoyin: But if racial prejudice against Blacks is not acknowledged, both at an individual and structural level, then it is difficult to address the inequalities that exist in the health sector, particularly in the field of mental health. There would be a need for nationwide cultural awareness programs for hospital staff, combined with anti-racism and de-escalation training. Black communities must also be involved.
ZEIT ONLINE: But again, the question: What is the basis of your conviction that in the case of William Tonou-Mbobda not only mistakes were made, but racism was at work? Do you basically assume that racism works in all institutions?
Brother Mwayemudza: Counter-question: Could you prove the absence of White superiority arrogance when – as in the present case – a series of omissions and errors have been committed against a Black patient and his family that are in conflict with medical diligence, existing guidelines and an ostensibly responsible corporate culture? Racism has a systemic effect and is based on the conviction of one's own superiority, and possibly also one's own infallibility – both individually and institutionally. The accumulation of errors to the detriment of one and the same patient cannot be explained without a corresponding structural background. In addition, there is the ignorant and disrespectful behavior towards the Black Family and the absolute blindness to errors after the incident, although the UKE's actions had fatal consequences. Here, the institution UKE has acted structurally derogatory and thus racist at all levels, from the careless admission examination to the unattended, lethal use of disproportionate force to the criminalizing crisis management at the expense of the killed patient and his relatives.
Sister Oloruntoyin: If we are honest: Racism and the idea of White supremacy are the basis of all institutions of this German society. This is not only our subjective experience, but also a finding that is repeatedly made by international bodies such as the UN Working Group of Experts on the situation of People of African Descent during a visit to Germany in February 2017 or in the regular reports on Germany by the European Commission against Racism and Intolerance (ECRI) – most recently in March 2020. When we speak of institutionalized racism, we shift the focus to how organizations work for or against ethnic minorities and how the services of these institutions are experienced by us. We are talking about systematic discrimination and structurally discriminatory practices. The most common form of "White supremacy" is not openly fascist neo-Nazi groups, but the silent agreement of the majority society to privilege White interests.
ZEIT ONLINE: How tiring is it for you to conduct this debate?
Brother Mwayemudza: If someone can't understand what racism feels like because he or she is not affected by racism, but then says: racism doesn't exist – then this is an arrogance and ignorance that reinforces the already existing experience of being worth less.
ZEIT ONLINE: The other day, the Federal Minister of the Interior Horst Seehofer said that racism in the German police force only occurs in isolated cases and therefore no study is needed.
Brother Mwayemudza: Horst Seehofer also spoke of migration as the mother of all problems and of defending the German social systems against immigration down to the last bullet. In this respect, one can already see how this man is positioning himself. That is one thing – the other is structural: precisely that denial of racism, historical and contemporary, structural. Not only Mr Seehofer is involved in this, but also the Interior Ministers of the Federal States and large sections of the police force.
ZEIT ONLINE: Germany likes to take advantage of having come to terms with its past. What do you mean when you speak of historical denial?
Brother Mwayemudza: Racism was already established before German fascism. It emerged as an ideology of justification for colonialism, for colonial crimes. But this connection is still not made today: The pretense is that fascism came from Braunau, historically out of nowhere. This missing link has led to the fact that colonialism and racism have never really been dealt with in Germany. There is a lack of recognition of this heritage and of the fact that for this very reason there are significantly more female racists than male fascists.
ZEIT ONLINE: With what consequences for the present?
Brother Mwayemudza: As long as it is not recognized, nothing is done about it. Then all racist incidents end up in the individual case drawer. There is a mechanism at work here that is called cognitive dissonance in psychology – if you deny you don't have to change. In this respect, Mr Seehofer's statements are classic examples of how racism works: Denial is an essential part of its reproduction.
ZEIT ONLINE: What does this mean for all those affected by racism?
Brother Mwayemudza: This denial is devaluation. When you say we don't need a study of racism, for example in the police force, you are saying: the people affected by racism are not even worthy of at least studying the phenomenon. This is then obviously a system that is politically intended: people are criminalized or even mistreated and killed because of the color of their skin, but those responsible for it have nothing to fear, let alone punishment. Instead, the police are declared victims of racism accusations – this is structural perpetrator-victim-reversion …
ZEIT ONLINE: Back to William Tonou-Mbobda: What did his death mean to you personally?
Sister Oloruntoyin: The case has shown us that as Black people we are not safe. As I stood by the bed of William Tonou-Mbobda in the intensive care unit at UKE, I thought of my younger brothers. I said to myself: That's incredible! We Blacks know that the German institutions are racist – and yet we are always shocked by such incidents. It is painful and traumatic that this "tragic" case, this "catastrophe", as Katharina Fegebank called it in the Science Committee, is part of a history that repeats itself again and again.
ZEIT ONLINE: What incidents do you think of when you talk about this story?
Sister Oloruntoyin: Mareame Sarr and Christy Schwundeck were shot to death by German police officers, Oury Jalloh was burned to death in a Dessau police cell, Achidi John died in the UKE from a coercive emetic instillation into his lungs. We also think of the murders of George Floyd, Breonna Taylor and many others in the USA. When we are struck by such racist disasters, which apparently seem quite natural to the white majority society, we are always hit very hard. It's hard to sleep after such incidents. It's hard to focus. It takes a while to process the shock and to calm down again.
TIME ONLINE: How do you handle it?
Sister Oloruntoyin: As the Black Community Coalition for Justice and Self-Defense, we offer psychosocial support and provide safe spaces where Black people can work through common traumas. Black people have been organizing themselves again and again, fighting racism for more than 500 years. However, overcoming systemic racism is ultimately the task of the White majority society, including its authorities and institutions.
ZEIT ONLINE: And how, in your view, can such an overcoming be achieved?
Sister Oloruntoyin: In any case, not without consistent criminal prosecution within reasonable time frames. It is crippling to have to wait again and again for impunity, for the next miscarriage of justice. Because the case of William Tonou-Mbobda has shown us this too so far: no one is held actually responsible when institutional action has fatal consequences.
ZEIT ONLINE: The prosecution would argue the investigation is ongoing.
Sister Oloruntoyin: For more than a year now?! It's hard for us to understand why it takes so long to press charges in a case that took place in broad daylight in front of numerous witnesses. And if it takes that long, we would at least expect some reasonable explanation.
Brother Mwayemudza: It is well known that the main investigations were already completed last fall. Still no charges have been brought up so far. For us, this again shows which perspectives are apparently not important at all: the perspective of William Tonou-Mbobda's family, the perspective of the people affected.
ZEIT ONLINE: Do you feel that you are heard in the public debate surrounding the case?
Brother Mwayemudza: Black voices have been heard, but this is mainly because from the beginning we have taken up this case, made it public and scandalized it. We were not surprised by the vehemence of the defensive reactions. We used the nasty R-word, called Racism. That was it: a naming, not just an accusation. Yet one is systematically pushed into the irrational corner.
ZEIT ONLINE: Do you mean that you are not taken seriously?
Brother Mwayemudza: What the UKE says, what the public prosecutor's office says is left unquestioned. That is official authority – no interpretation. What we say as affected persons, is permanently being questioned: Where do you get off saying that? Why do you assume racism at work? Conversely, other questions would be justified and even more purposeful: How could it have come about in the first place? And: Why you cannot see racism at all?