Academy for Black Studies, African Culture & Heritage
Free Lecture Series for Adults & Children of African Descent
Registration: academy@blackcommunitycoalition.de
This event has to be postponed from September 5th to September 12th due to power shortage in Guyana with a shortly announced power cut today on September 5th.
NEW DATE: 12.09.2021 | 15-17H
We apologize for any inconveniences connected to short notice and change of date!
This event will address the social function of religion, the role of imperial theologies and the concept of total emancipation.
What is the role of religion as a determinant of what we believe and how we should act and respond as Africans to emancipate ourselves from "Mental slavery"?
When we look at most African countries, we find that religion is a social aspect which determines identity. This issue of religion is often partly the cause of the problems that are destroying traditional knowledges and practices in our communities. In all African societies, indigenous and imported religions have influenced our shared collective history in one way or another.
Gerald A. Perriera will shed light on the origin of imported colonizing religions and highlight the importance of religion for emancipation and liberation.
Has the quest for unity and emancipation been compromised by religions?
Can the quest for unity and emancipation be divorced from the inherent beliefs in different religions?
This lecture aims to raise awareness and understanding of religion derived from a shared African experience and identity.
———————————————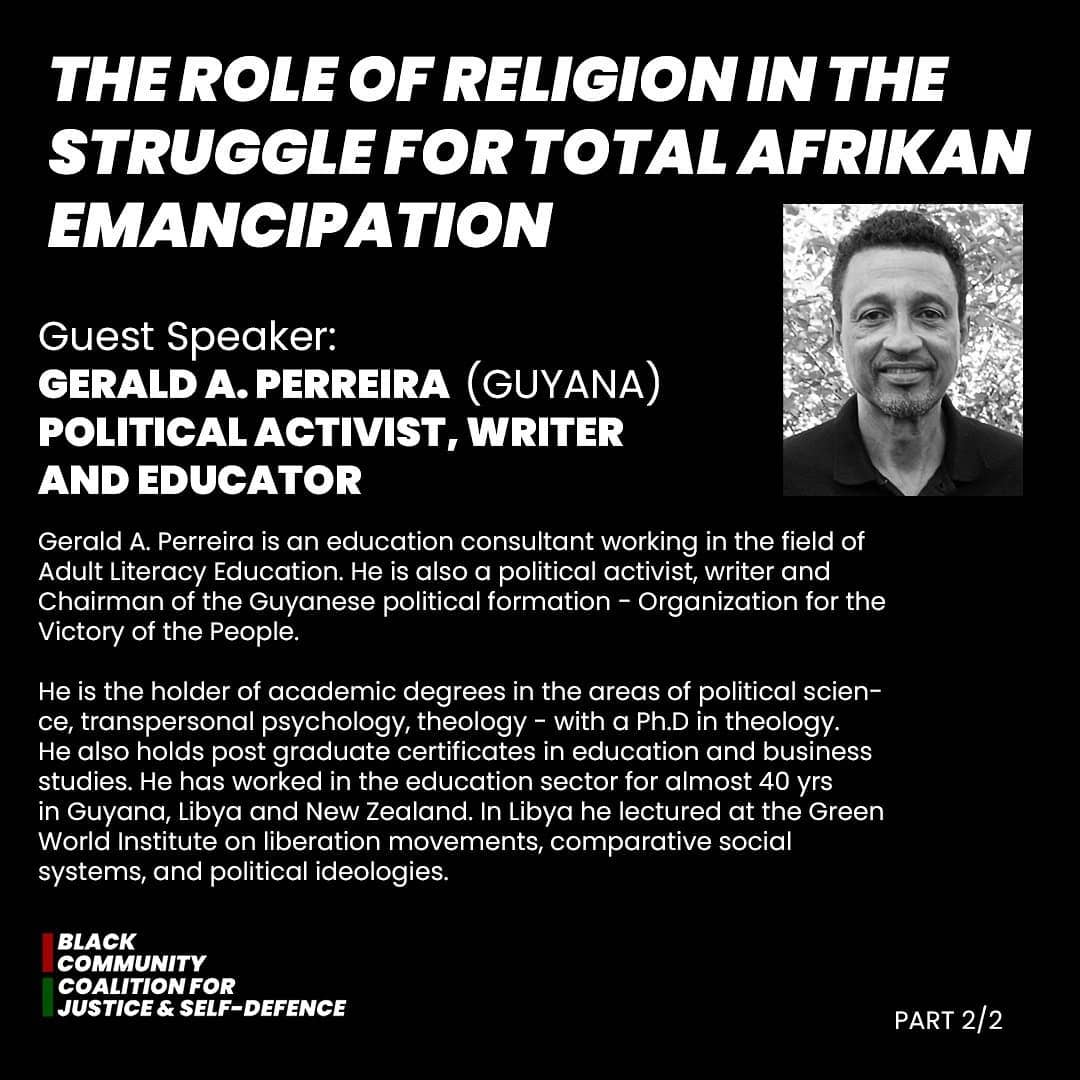 Gerald A. Perreira is an education consultant working in the field of Adult Literacy Education. He is also a political activist, writer and Chairman of the Guyanese political formation- Organization for the Victory of the People.
He is the holder of academic degrees in the areas of political science, transpersonal psychology, theology – with a Ph.D. in theology. He also holds post graduate certificates in education and business studies. He has worked in the education sector for almost 40 yrs in Guyana, Libya and New Zealand. In Libya, he lectured at the Green World Institute on liberation movements, comparative social systems, and political ideologies.
Academy for Black Studies, African Culture and Heritage
Ongoing free lectures…
Black Community Coalition for Justice & Self-Defence