EN – DE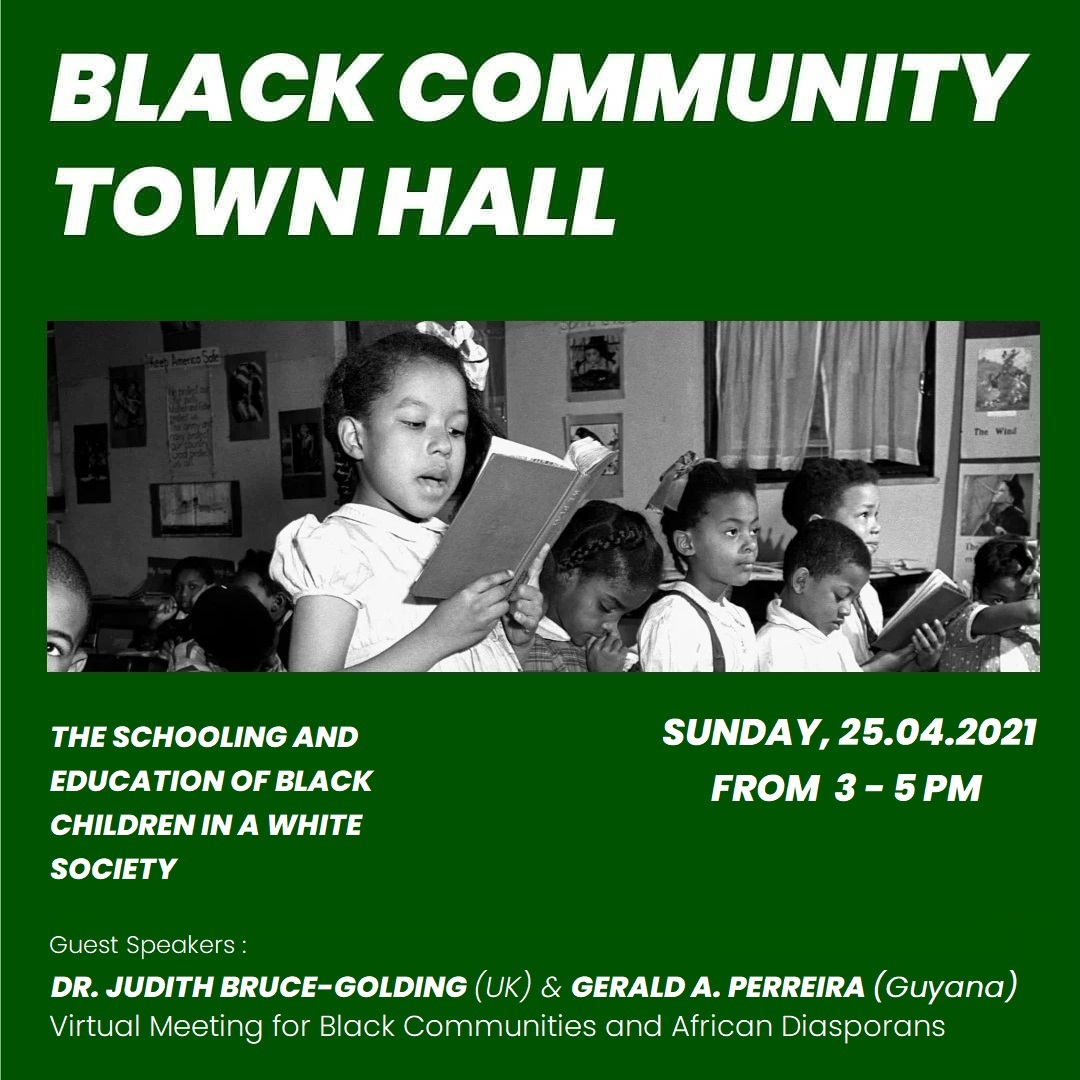 (Event-Language English with summary translation into German | Englisch mit zusammenfassender Übersetzung auf Deutsch)
Guest Speakers/Gastredner+innen:
Dr. Judith Bruce-Golding (UK)
Saraya Gomis (Germany)
Gerald A. Perreira (Guayana)
25.04.2021 | 15:00 -17:00hrs
Zoom-Link: https://zoom.us/j/95229251073?pwd=NnFOWGtTVHlkYzkyelpIZGdKTFA4QT09
Our children are not included in German school curricula, let alone receive an adequate education about African or Black history. As a result, they lack confidence in our cultures and cultural heritage….
How can we Black communities start to cooperate and organize to change this?
How can we begin to educate our children ourselves and autonomously as to make us less dependent on those institutions that have been designed to reject our community values?
What happens when Black children are socialized in a White world where Whiteness is the dominant norm and Blackness is an "inferior" deviation from that norm?
What does it do to our children when the historical, cultural, scientific, and technological contributions of African civilizations and people are systematically whitewashed and appropriated, while the colonial and neoliberal crimes against our cultures are just as systematically denied?
Which (pre-)school and other autonomous offers does our community already provide today, which projects are currently under construction and which further offers should be developed beyond that in order to strengthen the self- and historical consciousness of our children and our communities?
—————————————————————————————-
Dr. Judith Bruce-Golding is a postdoctoral researcher in Education and Leadership. She has a background in working across all educational key stages, including mainstream and secondary special education, mainly with excluded children and young people and disabled students. She completed her doctorate while working as the Lead ICT Teacher at a Pupil Referral Unit in England. Judith is a Youth Mental Health First Aid Trainer and has interests in Leadership and Education, Special Education and Psychology.
Saraya Gomis is an educator and anti-discrimination activist, and among other things, also a board member at the empowerment organisation Eoto Germany (EachOneTeachOne). She was also the anti-discrimination commissioner for schools of the Berlin Parliament for three years and campaigned against racism in schools.
Through her many years of experience, she will talk about structural racism in the educational system and what stands in the way of change.
Gerald A. Perreira is Chairperson of the Organisation for the Victory of the People, Guyana, Director of the George G.M. James Institute of Though and Action and an executive member of the Caribbean Pan African Network. He holds academic qualifications in the fields of political science, transpersonal psychology, education and theology. He is holder of a doctorate (Ph.D) in systematic theology and a doctor of theology degree (Th.D) in Historical theology.
He lived and worked in Libya under the late revolutionary martyr, Muammar Qaddafi and lectured at the Green World Ideological Institute in comparative political systems, liberation theology and political movements.
####################################################
Schule, Erziehung und Ausbildung Schwarzer Kinder in einer weißen Gesellschaft
(Veranstaltungssprache Englisch mit zusammenfassender Übersetzung ins Deutsche)
Gastredner*innen:
Dr. Judith Bruce-Golding (UK)
Saraya Gomis (Deutschland)
Gerald A. Perreira (Guayana)
25.04.2021 | 15:00 -17:00h
Zoom-Link: https://zoom.us/j/95229251073?pwd=NnFOWGtTVHlkYzkyelpIZGdKTFA4QT09
Unsere Kinder werden in den deutschen Schullehrplänen nicht berücksichtigt, geschweige denn erhalten sie eine adäquate Bildung über Afrikanische oder Schwarze Geschichte. Infolgedessen fehlt ihnen das Vertrauen in unsere Kulturen und unser kulturelles Erbe….
Wie können wir Schwarze Communities anfangen zu kooperieren und uns organisieren, um dies zu ändern?
Wie können wir beginnen, unsere Kinder selbst und autonom zu erziehen, um uns weniger abhängig von jenen Institutionen zu machen, die dazu geschaffen wurden, unsere gemeinschaftlichen Werte zu untergraben?
Was passiert, wenn Schwarze Kinder in einer Weißen Welt sozialisiert werden, in der Weißsein die dominante Norm ist und Schwarzsein eine "minderwertige" Abweichung von dieser Norm darstellt?
Was macht es mit unseren Kindern, wenn die historischen, kulturellen, wissenschaftlichen und technologischen Beiträge Afrikanischer Zivilisationen und Menschen systematisch weiß übertüncht und vereinnahmt werden, während die kolonialen und neoliberalen Verbrechen gegen unsere Kulturen ebenso systematisch geleugnet werden?
Welche (vor-)schulischen und anderen autonomen Angebote gibt es bereits heute in unseren Communities, welche Projekte befinden sich schon im Aufbau und welche weiteren Angebote sollten darüber hinaus entwickelt werden, um das Selbst- und Geschichtsbewusstsein unserer Kinder und unserer Communities zu stärken?
————————————————————————————
Dr. Judith Bruce-Golding ist Forscherin im Bereich Bildung und Mitarbeiter*innenführung. Sie hat einen Hintergrund in der Arbeit in allen wichtigen Bildungsstufen, einschließlich der Regelschule und der Sonderschule, hauptsächlich mit ausgegrenzten Kindern und Jugendlichen und behinderten Schülern. Sie schloss ihre Promotion ab, während sie als leitende IT-Lehrerin an einer Sonderschule in England arbeitete. Judith ist psychologische Erste-Hilfe-Trainerin für Jugendliche und hat Interessen in den Bereichen Menschenführung und Bildung, Sonderpädagogik und Psychologie.
Saraya Gomis ist Pädagogin und Antidiskriminierungsaktivistin und unter anderem auch Vorstandsmitglied bei der Empowerment-Organisation Eoto Deutschland (EachOneTeachOne). Außerdem war sie drei Jahre lang Antidiskriminierungsbeauftragte für Schulen des Berliner Abgeordnetenhauses und engagierte sich gegen Rassismus an Schulen.
Durch ihre langjährigen Erfahrungen wird sie über strukturellen Rassismus im Bildungssystem sprechen und darüber, was einer Veränderung im Wege steht.
Gerald A. Perreira ist Vorsitzender der Organisation for the Victory of the People, Guyana, Direktor des George G.M. James Institute of Though and Action und Vorstandsmitglied des Caribbean Pan African Network. Er hat akademische Qualifikationen in den Bereichen Politikwissenschaft, transpersonale Psychologie, Pädagogik und Theologie. Er ist Inhaber eines Doktortitels (Ph.D) in Systematischer Theologie und eines Doktortitels der Theologie (Th.D) in Historischer Theologie.
Er lebte und arbeitete in Libyen unter dem verstorbenen revolutionären Märtyrer Muammar Qaddafi und unterrichtete am Green World Ideological Institute vergleichende politische Systeme, Befreiungstheologie und politische Bewegungen.