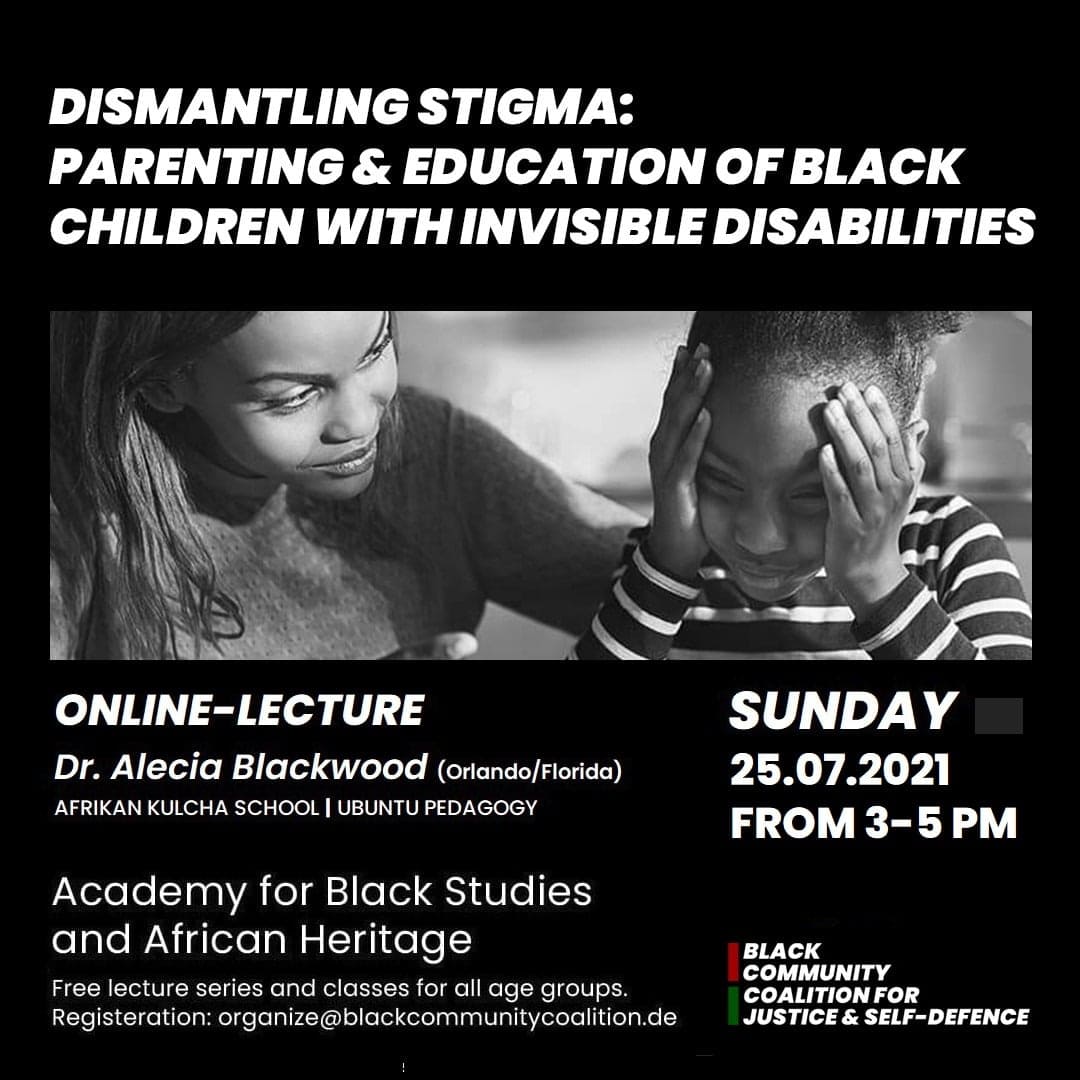 The purpose of this session is to engage in dialogue and provide practical solutions to parents that are raising black children in the diaspora.
Lecture by Dr. Alecia Blackwood
Executive director Afrikan Kulcha School, Orlando/Florida
Expert in UBUNTU pedagogy
As Black parents of children with disabilities, we must love, nurture, and teach them from a position of love and care. We must empower ourselves and advocate for our children as they navigate the system that will try to dehumanize them because of the color of their skin.
If you are raising a child with learning disabilities, join this session as we engage in dialogue with international educator Dr. Alecia Blackwood as she shares knowledge on supporting exceptional learners and provide practical solutions to parents that are raising black children in the disapora.
***************************************************************************
Let's break the silence and empower our children with disabilities!
***************************************************************************
Alecia Blackwood is a passionate master teacher. She has over 20 years of experience as an educator.
Dr. Alecia Blackwood is an international speaker and educator. She has been sharing her expertise with teachers at the University of Central Florida, the University of Botswana, the University of Namibia, and the University of Johannesburg through lectures and workshops.
Additionally, Alecia Blackwood is an African-Centered curriculum and instructional specialist. She has worked with private schools, public schools, and homeschool families by helping to infuse culturally relevant materials into their curricula in the USA, Africa and the Caribbean. She is one of the country's leading expert on Ubuntu pedagogy. Ubuntu pedagogy is a humanistic approach in actively engaging students in the teaching and learning process.
Dr. Blackwood is the executive director of Afrikan Kulcha School, in Orlando, Florida. Afrikan Kulcha School is a non-profit organization that provides cultural education for students in the community. The school also has a rite of passage called the Sankofa Youth Initiative program that takes students to study abroad in Ethiopia and Ghana.
Currently, she is a professor at a local college Florida. Alecia Blackwood is a mother, raising four beautiful children that were homeschooled at different stages of development.
Pls register by mail to organize@blackcommunitycoalition.de BLACK SAFE SPACE
FB-Event: DISMANTLING STIGMA: Parenting and Education of Black Children with Invisible Disabilities