[DE siehe unten]
Solidarity funds to support Valérie's family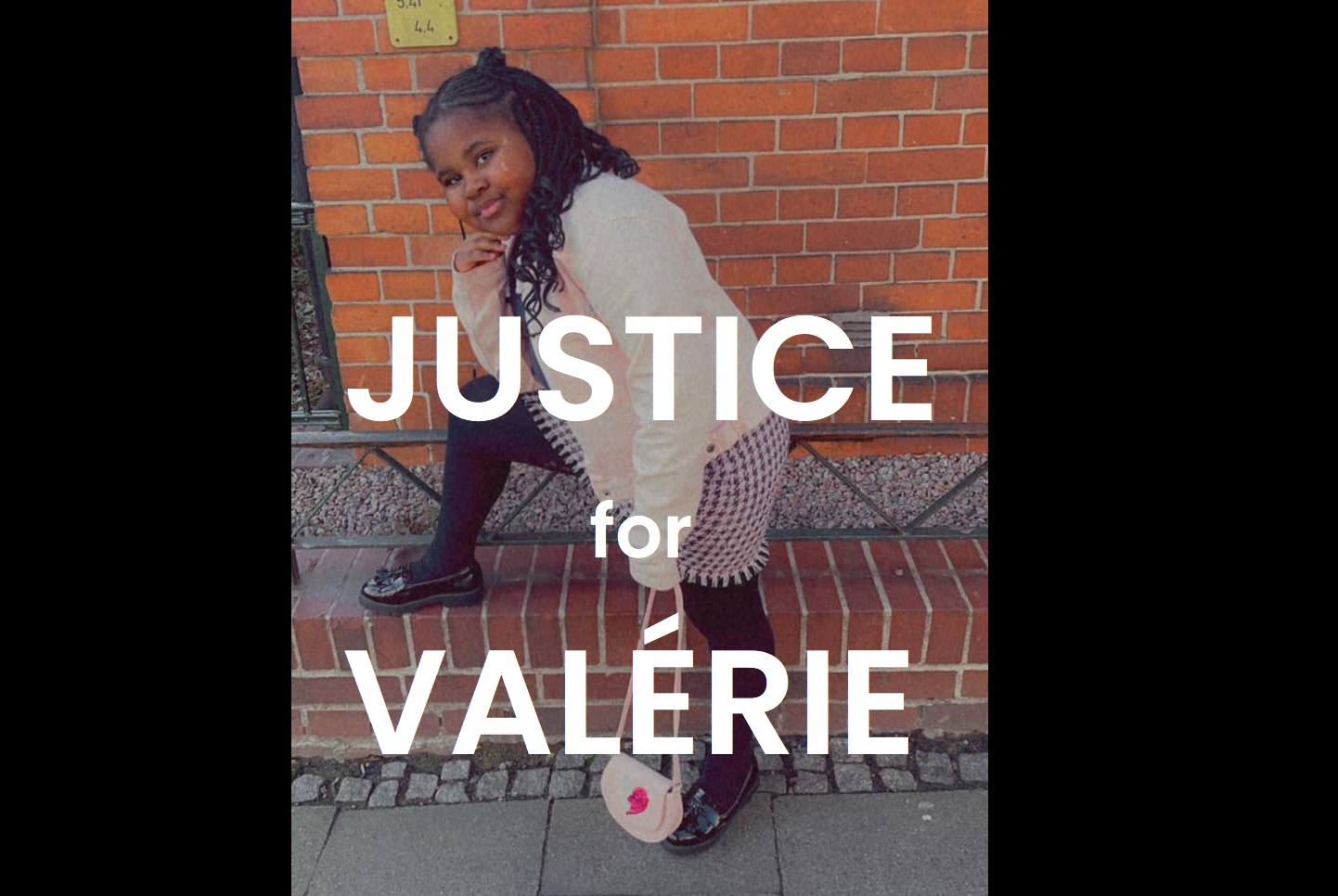 It is with deep sadness that we announce the death of Valérie Iyobor on March 21, 2022 in Uelzen, Germany. Seven-year-old Valérie had been experiencing excruciating abdominal pain and started vomiting on Sunday. She was urgently presented to a pediatrician at the Hammersteinplatz Medical Care Center in Uelzen the following day.
However, the pediatrician sent the little girl home recommending that the worried mother give her bananas to eat and water to drink. That very same day, however, little Valérie's pain became increasingly unbearable and her condition progressively worsened, prompting her mother to call 112 for an ambulance. She was taken to the hospital and underwent emergency interventions, but unfortunately all efforts to save her life failed. The police informed the mother that the preliminary autopsy revealed the cause of death to be a ruptured appendix.
"She was the Joy of our lives" said Jennifer Iyobor. "She would wake up early in the morning with lots of smiles, she was full of fun and very intelligent. Everybody loved her."
Jennifer and Valérie's little Brother urgently want and need a change of residence because the current apartment reminds them daily of their painful loss. This is why we are launching this fundraiser to support Valerie's' mother and brother.
The grieving Family shouldn't have to deal with financial difficulties. The funds raised will help them cover subsequent costs and needs, as well as help them start a new life.Your donations will exclusively and directly benefit the family.
We thank you for your donations and will report on further developments of this case.
+++++++++++++++++++++++++++++++++++++++++++++++++
DE
Solidaritätsfonds zur Unterstützung der Familie von Valérie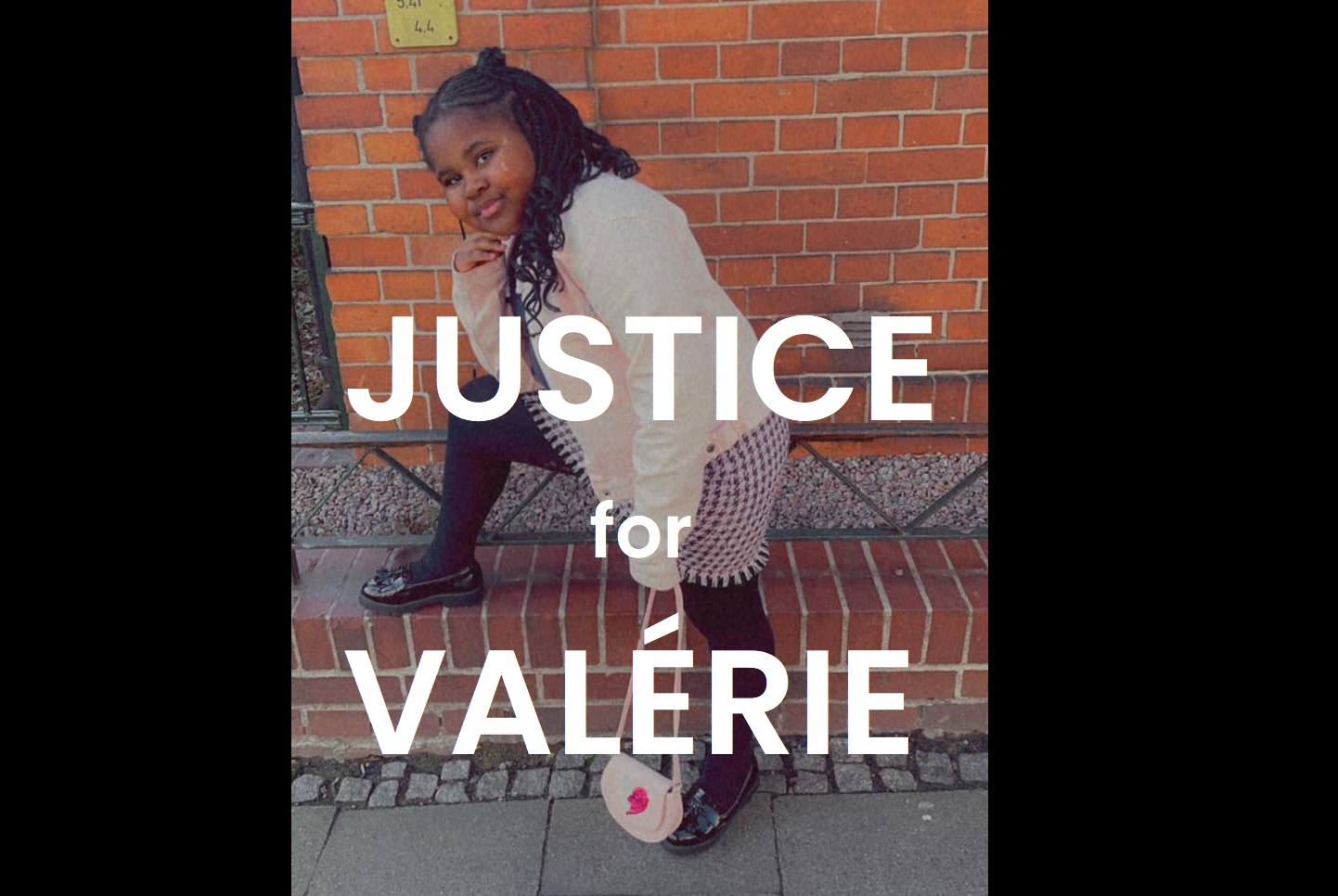 In tiefer Trauer geben wirden Tod von Valérie Iyobor am 21. März 2022 in Uelzen, Deutschland, bekannt. Die siebenjährige Valérie litt unter unerträglichen Bauchschmerzen und begann am Sonntag zu erbrechen. Sie wurde am nächsten Tag notfallmäßig bei einer Kinderärztin im Medizinischen Versorgungszentrum Hammersteinplatz in Uelzen vorgestellt. Die Kinderärztin schickte das kleine Mädchen jedoch und ohne Verabreichung eines dringend benötigten Schmerzmittels nach Hause. Sie empfahl der Mutter, ihr Bananen zu essen und Wasser zu trinken zu geben. Noch am selben Tag wurden die Schmerzen der kleinen Valérie jedoch immer unerträglicher und ihr Zustand verschlechterte sich zusehends, sodass ihre Mutter den Notruf 112 wählte und den Rettungsdienst alarmierte. Valérie wurde ins Krankenhaus gebracht und dort notoperiert, aber leider scheiterten alle Bemühungen, ihr Leben zu retten. Die Polizei teilte der Mutter später mit, dass die vorläufige Autopsie als Todesursache einen Blinddarmdurchbruch ergab.
Wir solidarisieren uns mit Sister Jennifer Iyobor und ihrer Forderung nach umfassender Aufklärung der Umstände, die zum Tod ihrer Tochter Valérie geführt haben.
Was sie beschreibt, ist eine Gleichgültigkeit und Nachlässigkeit, mit der Menschen afrikanischer Abstammung hier in Deutschland leider zu oft konfrontiert werden.
"Sie war die Freude unseres Lebens", sagte Jennifer Iyobor. "Sie wachte frühmorgens mit einem Lächeln auf, war lustig und sehr intelligent. Jeder liebte sie."
Die Mutter und der kleine Bruder von Valérie wollen und brauchen dringend einen Wohnungswechsel, denn die jetzige Wohnung erinnert sie täglich an ihren schmerzlichen Verlust. Aus diesem Grund starten wir diese Spendenaktion, um Valeries Mutter und Bruder zu unterstützen.
Die trauernde Familie sollte nicht mit finanziellen Schwierigkeiten zu kämpfen haben. Die gesammelten Gelder werden ihnen helfen, die Folgekosten und -bedürfnisse zu decken und ihnen den Start in ein neues Leben zu erleichtern. Ihre Spendengelder kommen ausschließlich und direkt der Familie zugute.
Wir danken Ihnen für Ihre Spenden und werden über die weiteren Entwicklungen in diesem Fall berichten.