MUSIC IS WEAPON FOR RESISTANCE & SELF-CARE
We invite you to a 3-hour program of music, information, poetry and exchange!
SPREAD THE WORD – GET READY – COME ALONG
Celebrating Resilience and Liberation
On 19 June 2022
from 15:00 to 18:00
at Kampnagel (Hamburg)
FB_Event JUNETEENTH-Fundraiser BLACK COMMUNITY
The programme includes:
Keynote speech, Live music, Chants, performance, Traditional drum music, Video clips, Presentations, Live music and DJ
This fundraising event is part of our overall commitment and ongoing efforts for equality and justice through advocacy, public awareness, community care, empowerment and education.
100% of the money donated will go towards
– education and legal services to support our work with families and loved ones affected by racism & structural violence
– the development and education of young people to promote equality of opportunities and education in schools and in voluntary services to the community
– our work with marginalised migrant groups
– supporting our work providing medical counselling and psychological support to those in need of help
– supporting our work with Africans from Ukraine and other third country nationals who are not granted protection.
We need more personal commitment from our communities in order to be able to continue this important work in the future.
Donations will be accepted at the event in cash or on GoFundMe:
GoFundMe JUNETEENTH 2022 Black Community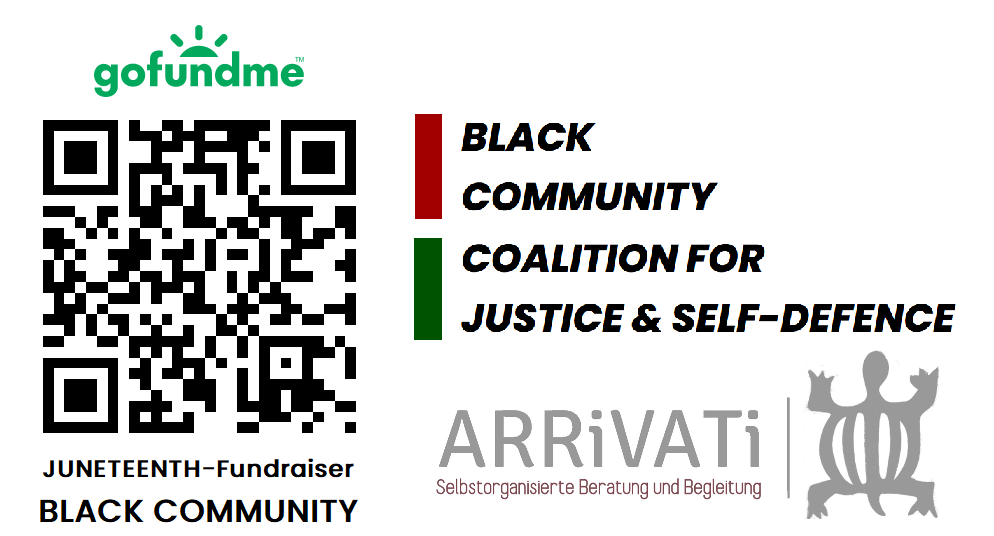 This event is part of our overall commitment to continue by all means, which includes art as a weapon of resistance and self-care.
We will offer you African food and drinks for donations during a break and at the end.
People of African descent and Hamburg civil society should join the ever louder call for justice and equality as we celebrate our solidarity and community practices that bring us closer to a world where Black and other racialised people could live without fear of violence and oppression.
Our first fundraiser at Kampnagel was in response to the murder of Brother Tonou Mbobda in 2019. The centuries of structural oppression, state-sanctioned violence and systemic racism that Black people face is still an everyday experience in our communities.
We must never forget that there is still so much work to be done.
We hope you will help us spread the word about the upcoming fundraising campaign, and thank you very much for doing so!